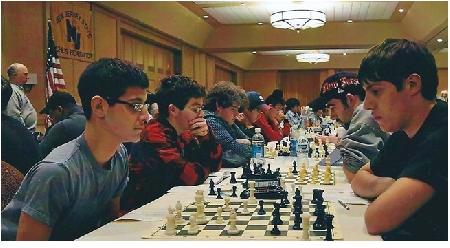 ICA Three Thriving On First Place Finish At
Amateur Team East Championships!
It's not the most favorite tournament of the ICA student body for nothing, and it's no coincidence that that appeal transferred to a rousing success for many ICA individuals, and of course our very own ICA Team #3.
The Team, which was comprised of ICA coach Eugene Sokolovsky, Gregory Gabovich, Timothy Hoang, and Ethan Klein claimed top honors as the best team with an average rating under 1800 points. Ethan Klein performed especially well with an almost up to expert performance rating of 1900. Congratulations to ICA Team #3 and shame on them for not coming up with a better name.
While no other teams showed any especially impressive results, certain individuals did do their part in contributing to the overall tallies, by coming up with near flawless performances in each game. David Shekhtman, an up and coming ICA coach, scored a perfect six out of six points on board three for ICA #2, or as the team was collectively known as, "Naka Beats The Steelers." Aside from David, ICA coach Danny Rade, scored a very impressive five-and-a-half out of six on board three, for ICA #1, or the coaches team (consisting of Hana, Max, Danny, and Solomon).
There were also a few other ICA teams competing, like the Invincible Knights which consisted of ICA Young 'masters': Phillip Blumin, Michael Aksen, Aron Shlionsky, Zachary Lyandres, and Joshua Lerman.
Congratulations and we hope everyone had fun.