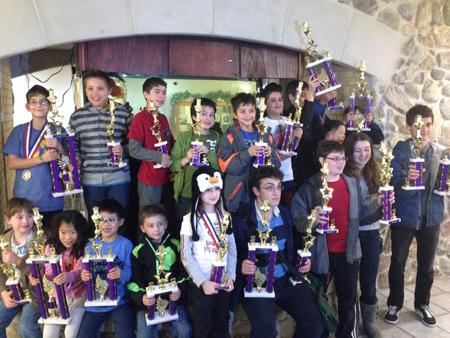 New Jersey State Championships: Gilad Drillich Two Time State Champion! Justin Lee Ties For 1st As Well!
Though there weren't as many state champions as last year overall there were many more trophy and medal winners than last time. The big news is Gilad Drillich repeated as state champion for the 11th grade much like he did for the 10th, while Justin Lee tied for first and finished tiebreak second after taking a draw despite a better position.
Kindergarten
In the kindergarten section Jane Stripunsky was the only ICA student participating. Out of twelve players she finished with three points and took home the fourth place trophy.
First Grade
With thirty-five players Suran Gao did the best, though once again ending up on tiebreak second (5th place trophy), scoring four points. Daniel Lifshitz, Andrew Salnikov, and Andrew Sung all scored three points and took 7th, 8th, and 14th places overall. Jonathan Plavnik also participated scoring one and a half points.
Second Grade
Out of forty three players Justin Lee almost claimed sole possession of the state championship but finished with the second place trophy (tied for first) after he took a draw in a better position despite his opponent being down on time. Mathew Lerman ended his two year run as state champion for kindergarten, and first grade and settled for third place with four points total. Grant Goldman also scored four points and took the fourth place trophy. Dennis Li, and Jessica Lee scored three points and took ninth, and eighteenth places respectively.
Third Grade
Kenneth Telebrico was the only ICAer in the third grade section and scored three points to claim the sixteenth place medal out of thirty-seven players.
Fourth Grade
With forty-eight players Sophie Rasol (who wore a sunglass/penguin hat combo to psych out certain opponents) and Dennis Karpenko scored three points each to claim fourteenth, and seventeenth places respectively.
Fifth Grade
Emre Alptuna did the best in the fifth grade section finishing with the third place trophy (tied for second) and four out of five points. Duy Nguyen also scored four points and took the sixth place trophy overall. Josh Lerman, Gabriel Lifshitz, and Zachary Shusterman all finished with three and secured the ninth, tenth, sixteenth place prizes respectively. Daniel Klevak, and Alan Salnikov scored two points each to round out our fifth grade effort. Thirty Seven fifth graders competed here.
Sixth Grade
Out of twenty-five players Nikita Popov, and Daniel Khaitov both scored four points and took home the second, and third place trophies respectively. Alan Sourek claimed two-and-a-half points.
Seventh Grade
In the seventh grade section Ryan Hoang, and Vedant Rautela represented the ICA with three-and-a-half, and three points each, and the fourth and ninth place trophies. Twenty-eight players competed in the seventh grade section.
Eighth Grade
Nicholas Cardenas and Nastasia Klevak both scored three-and-a-half points to take the third and sixth place trophies respectively. Sid Wagh and Phillip Blumin were a small rung below with three points and took the seventh and eighth place trophies. There were twenty four eighth graders participating.
Ninth Grade
No ICA players participated in the ninth grade section.
Tenth Grade
Eric "King" Kong (that nickname never gets old despite the fact that Eric is but two years or so from college) earned the fourth place trophy (tiebreak second) with four points. Timothy Hoang scored three-and-a-half points and took the fifth place trophy.
Eleventh Grade
Of course this was our, and Gilad's big moment as Mr. "G" Drillich an old school ICAer repeated his 10th grade state title result by sweeping the 11th grade section this year with five points and taking the first place trophy. Twenty four players competed in the eleventh grade.
Twelfth Grade
Ari Shusterman was our only twelfth grader competing and scored four points and took third place (tied for second).
Team Competition Results
The Lee Siblings (Jessica and Justin) finished in second place in the second grade team competition, while Alan, Gabriel, and Zachary took second place in the fifth grade section.
Thank you to all our parents and kids who travelled that far to represent themselves and the school.
For more information, please contact us


(201) 797-0330

(201) 287-0180


E-mail