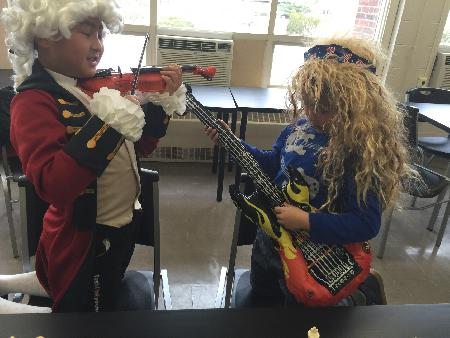 Grandmaster Fishbein, Mozart, Kal Penn, a pirate, and Jon Bon Jovi
Rock ICA New Year's Blitz tournament!
Well that was fun wasn't it? This Saturday December 31st we held our first New Year's Eve blitz tournament to the delight of everyone involved.
As expected Grandmaster Alexander Fishbein won the open section (after interest from 4,5 GMs he was the only GM who stopped by to join his son Mitch in playing on Saturday) with ICA coach Igor Yeliseyev taking second and Lev Zilbermints third.
Nicholas Cardenas also won the best u2000 prize while Mitch Fishbein (who got a sixth round whoopin from his dad) won the best under 1800 prize.
Kal Penn (I.e. Arjun Mayer our long time student who is ok with the Hollywood comparison!) finished in 11th place with 2.5 points.
We had fourteen players in the open section.
The u1600 was long time ICA student Ethan Xu with Gary Varjian second, and Alessandro Demarchi Blumstein in third.
Alfred Tan was the u1400 winner, and Sean McLaughlin was the u1200 winner. Anton Badushov won u1000, Blake McCarthy was best u800, and Aaron Shefter was the u600 winner.
The pirate (I.e. ICA student Avital Nozic) finished with three points out of nine.
Twenty two people played in the u1600 section.
The unrated section winner was Rohan Joshi who started his first round with a loss to classical composer Mozart (I.e. Choco Chen) but reeled off wins against everyone else including rock star Jon Bon Jovi (I.e. Jody Chen).
Bon Jovi finished in second tied with Remy Choi, while, Mozart and Daniel S ( who had Rohan in big trouble going into the last round but lost on time to the winner) tied for fourth.
Twelve kids competed in the unrated section.
Happy New Year and thank you all for coming out.
Our next tournament is January 22nd.
For more information, please contact us


(201) 797-0330

(201) 287-0180


E-mail