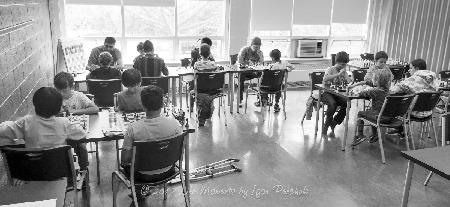 GM ("Go" )Fishbein Leaves Nothing To Chance Winning The ICA's "Take A Chance" Blitz Tourney!
Four wins in a row for the "King and Pawn" endings author.

Can anyone stop GrandMaster Alexander Fishbein?( I mean besides GM Alex Stripunsky who tied him for first place during the St. Patrick's day blitz event).

For the fourth time in a row the Open section winner was GM Fishbein who defeated all other challengers, and once again drew Lev Zilbermints in the final round (GM Fishbein drew Lev in the final round in a previous blitz tourney under the same circumstances) to clinch first place. Once again this nets 150 bucks and "Quadruple" bragging rights to the winner.

Lev Zilbermints got seventy five bucks for second place, while Mauricio Camejo got 37.50 for third.

Sean Finn, Mitch Fishbein, and Ramon Garcia all received u2000-u1800 prizes for best results of players under that rating amount.

Old friends, and once bitter rivals Alan Sourek, and Sophie Rasol tied for first place in the u1600 section with 6/7 points each. Ethan Xu finished third with 37.50 and five-and-a-half points out of seven total.

Siddhart Manikandan, Felix Dyadyuk, Anton Badushov, Blake McCarthy, and Alex Vern all collected u1400-u600 prizes as well.

In the unrated section Govshut Berdiyev, a native of Turkmenistan (a country with a very interesting post-Soviet history), who once competed for that country in the youth world championships in India, but who had not played in many years and was not rated in the USA, won with six out of seven points. Interestingly enough Govshut who was dominating got a little relaxed in the last round and didn't notice Arnav's last ditch check, losing his king and thereby losing the last round of the event. Though it didn't change first place for Govshut, the win allowed Arnav to catch fellow second place finisher Sashwat Somas, who earlier lost to Jesse Perchuk in a variation of scholar's mate. Arnav, and Sashwat finished with five points out of seven games right behind Govshut.

The next blitz tournament is on May 19th!