By: di-ve.com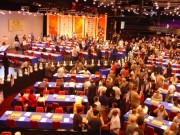 Tuesday, 19 October, 2004

After the second round of the 36th Chess Olympiad that is being staged in Calvia, Spain, two teams lead the men's standings with 8/8. These are seed number two Ukraine who has defeated Spain B clearly by 4-0, and the Czech Republic, who beat Bangladesh by the same result.

Several teams share the third place with 7.5/8. The strong Israel team defeated Australia 3.5/0.5 (GM Rogers drew with GM Sutovsky). Also with 7.5 we find Serbia (3.5-0.5 against Finland), Slovaquia (3.5-0.5 vs Belgium), Canada (3.5-0.5 against Albania), and Bulgary (4-0 against Kazakstan).

The Maltese side led by Colin Pace on board one defeated the US Virgin Islands by 3.5/0.5 after losing their first round match with the Philippines.

Andrew Borg, Daniel Abela and Ronald Sammut won their games while C.Pace drew his game.

In round three Malta plays the strong side of Croatia. The Olympiad is a Swiss team event with fourteen rounds. There are 127 countries taking part with the top seed being the Russians followed closely by the Ukraine, Israel, Armenia and India.

Finally the favourite Russia stays near the top alter defeating Switzerland by 3-1. In this match GM Morozevich won quickly against GM Korchnoi after a big mistake by the Swiss player, and Korchnoi stayed more than 20 minutes on the board trying to understand what had happened.

In the women's section Germany leads the field with 6/ 6 after beating Australia 3-0. Spain has achieved a good result tying 1.5-1.5 with the strong Greek team.