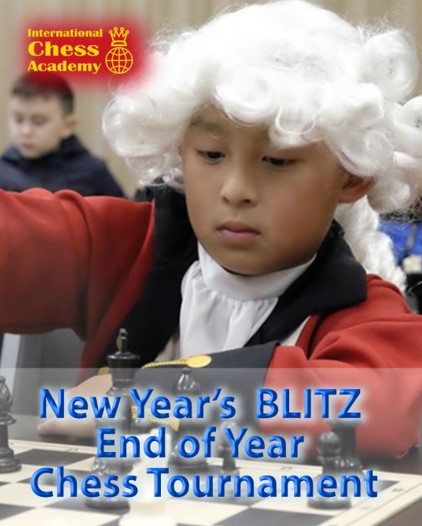 Dress-up in Costume Play for CASH prizes!
DECEMBER 31ST IN GLEN ROCK!

Chess competitors, please join us on December 31st for our most festive and fun competition of the year! Right in our Glen Rock location we'll be hosting an all sections. USCF rated (BLITZ) championships. And we'll be doing this in style! Dress up is encouraged! Costumes will be rewarded! Play for cash prizes! Help us celebrate the end of a year and the beginning of a NEW Decade!

Location: 354 Rock Rd, Glen Rock, NJ
Starts at: 12:00 PM!


Registration closes: 11:30 AM sharp!
Format: Time Control is five minutes with no delay!
Take kings, and clock move!

OPEN
1st Prize $200
2nd Prize $100
3rd Prize $50
Plus: TU2200,TU2000 & TU1800 $50 each
Entry fee: $30 ($35 on the day of tournament)

U1600
1st Prize $200
2nd Prize $100
3rd Prize $50
Plus: TU1400, TU1200, TU1000, TU800, TU600 $50 each
Entry fee: $30 ($35 on the day of tournament)

UNRATED SECTION
1st Prize $200
2nd Prize $100
3rd Prize $50
Prize fund is based on total of 60 (all sections) entries, will not be reduced below 75%