Posted: 11/22/2016 | Updated: 11/22/2016 | Results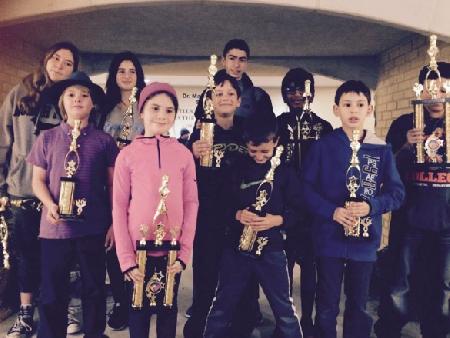 Congratulations to ALL ICA students who participated in NJ State Grade Championships on Sunday, November 20th! Twenty-Five ICA students participated in this competition.

Hurray to Winners:
Grade 1:
Alexander 3rd place
Trophy; Anthony 6th place Trophy
Grade 2: David 10th place Trophy and Blake (tied for 9th) 17th place medal
Grade 3:
Mythreya 1st place
Trophy;
Jane 3rd place
Trophy
Grade 4: Jonathan 5th place Trophy; Aaron 8th place trophy
Grade 5: Grant 9th place Trophy and Ethan 18th place medal
Grade 6: Eric 9th place Trophy
Grade 7: Sophie 5th place Trophy and Alex 8th place Trophy
Grade 8:
Daniel 2nd place
Trophy and Alan 7th place Trophy
Grade 9:
Nikita 2nd place
Trophy; Ryan 4th place Trophy; Daniel K 5th place Trophy;
BCA team (Nikita, Ryan and Daniel) won
1st place in 9th grade
ahead of CBA team with 7 (!) players by 4 points!
For more information, please contact us


(201) 797-0330

(201) 287-0180